I am pleased to announce that Paprika 3.0 has been finally released for iOS and macOS! We've added a ton of new features to this version, here's a look at what's new: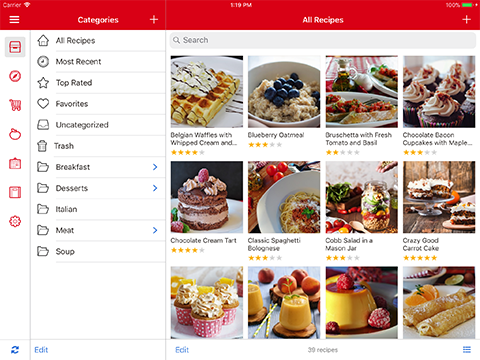 iOS
We have implemented support for the new iPhone X screen, as well as support for iOS 11.
The iOS app is now universal, so you no longer need to purchase the iPhone and iPad versions separately.
We have added multitasking support to the iPad version so you can use Paprika with Slide Over and Split View.
macOS
We have added a Share extension so you can directly save recipes from Safari.
Recipes
We've added a beautiful new recipes grid view that highlights your recipe photos.
You can now add multiple, full-sized photos to each recipe.
Photos can be embedded in directions and tapped to zoom to full size.
You can insert links to other recipes or websites from within your ingredients and directions.
You can format recipes with bold and italics using a Markdown-like syntax.
You can now convert ingredient measurements between US standard and metric systems.
Search has been expanded to support searching in multiple categories, and searching in directions and notes.
Pinned recipes are now synced between devices.
Deleted recipes are now moved to the trash first, so you can recover accidentally deleted recipes.
Grocery List
You can now create multiple grocery lists and add different items to each list.
You can now create custom grocery aisles, and arrange them in your preferred order.
When you assign an ingredient to an aisle, it will remember that assignment and reuse it in the future.
You can now move ingredients back and forth between the pantry and grocery list.
The grocery list has been overhauled and is better at consolidating ingredients.
Pantry
You can now add custom items to the pantry.
You can now record quantities, purchase dates, and expiration dates for each pantry item.
Meal Planner
We have added a new view into the meal planner that shows the current day's meals.
You can now add custom meal types to the meal planner, and rename or reorder the existing ones.
You can now drag and drop recipes directly onto the meal planner. (iPad only)
We have added a new Today extension that shows the current day's meals.
Menus
You can now create menus that span multiple days or even weeks.
You can now predefine meal types for each menu item. This makes it easy to create a weekly meal plan and reuse it.
Both the iOS and macOS versions of Paprika 3.0 are new apps available for purchase and will replace the existing versions. To transfer your data from the old app to the new, you can use Paprika Cloud Sync or export your recipes to a .paprikarecipes file and import them into the new app.
In celebration of our launch, we are putting all of our apps on sale until the end of November. You can purchase the new iOS and macOS apps from the App Store on your device or through the links below.